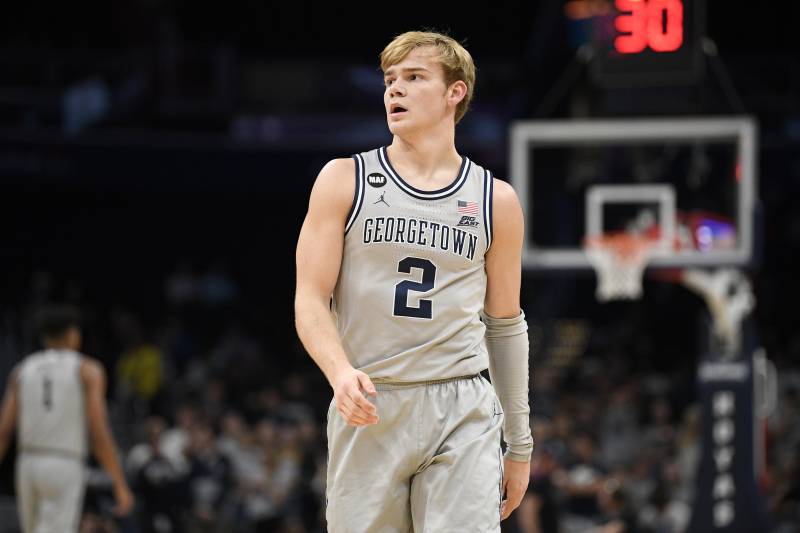 Two years ago, a 6-foot-2 guard from a small town of Gate City, Virginia lit up the internet through highlight videos of his high school game. Fast forward to today, nobody talks about him.
Georgetown guard Mac McClung declared for the 2020 NBA draft but teams don't seem to be interested in him.
Top prospects such as Anthony Edwards, LaMelo Ball, and James Wiseman are all getting a lot of hype and media attention.
McClung, on the other hand, lost all the hype he once had.
Mac McClung declares for NBA draft
McClung declared for the draft with no expectations. He plans to maintain his eligibility shall he end up returning for his junior season in Georgetown.
"I am looking forward to getting feedback from NBA teams, as well as give NBA teams an opportunity to get to know me on a more personal level," McClung said.

The 20-year old has until June 15 to decide whether to turn pro or go back to college if everything remains on schedule.
Mac McClung as the High School sensation
McClung was a viral sensation in high school thanks to YouTube content creators such as Ballislife who covered his games for their channel.
He wowed the internet with his athletic prowess which was compared to Russell Westbrook at times. The comparisons were very similar with a 48-inch vertical and an underrated pull-up jumper.
The mandatory NBA rule of spending at least a year in college may or may not hurt McClung as a prospect but if there's one thing we found out, it exposed him.
Mac McClung and his struggles in college
McClung committed to Georgetown as a 3-star recruit in 2017.
With the Hoyas, McClung averaged a mediocre 13.1 points, 2.6 rebounds, and 2.0 assists per game in his freshman season.
His sophomore season was a bit better as he averaged 15.7 points, 3.1 rebounds, and 2.4 assists but it wasn't a drastic improvement that will likely impress scouts.
A foot injury in his second year didn't not help his cause as he only managed to play 21 games that season.
Though he still had some highlight reel plays every now and then, his once dominant guard play didn't translate to the college level.
Being in the same freshman class as Zion Williamson didn't help as the Duke got all the media attention.
Mac McClung: The least talked about draft prospect
McClung buffered a year more but still didn't become a talked about prospect.
The confidence is still there as well as the raw athleticism. At 6'2", he plays like an undersized shooting guard
at the point guard spot.
Sounds familiar? That's because Westbrook was at a similar path.
Westbrook wasn't a 5-star recruit, he didn't put up 20+ points per game in college, and he wasn't talked about that much as compared to his fellow draft class prospects Derrick Rose and O.J. Mayo.
Will McClung be a decent NBA player?
Even on an NBA level McClung needs to be treated like Westbrook.
Westbrook had the freedom of finding his game on an NBA level even if he played alongside an obvious first option in Kevin Durant.
McClung will need to prove however that shooting numbers don't make a player overall. He averaged only
32.3 percent of three-point attempts this past season at Georgetown.
What needs a lot of improvement is his ability to create for others. Westbrook averaged 4.7 assists as a sophomore while McClung only averages 2.4.
If the NBA is an indication, college stats may or may not speak about a player. Good thing McClung's confidence is still intact during his struggles in college. He still believes
he will be an good NBA player.

"Oh yeah, there's no doubt in my mind," McClung said in an interview. "But I gotta prove it. And I will prove it. I got something to prove every day," he stressed out.
Will Mac McClung make it to the NBA? Will he be a superstar like his closest NBA comparison? Let's talk about the Georgetown prospect in the comments below.
For more SportNuz, click here for the latest updates.