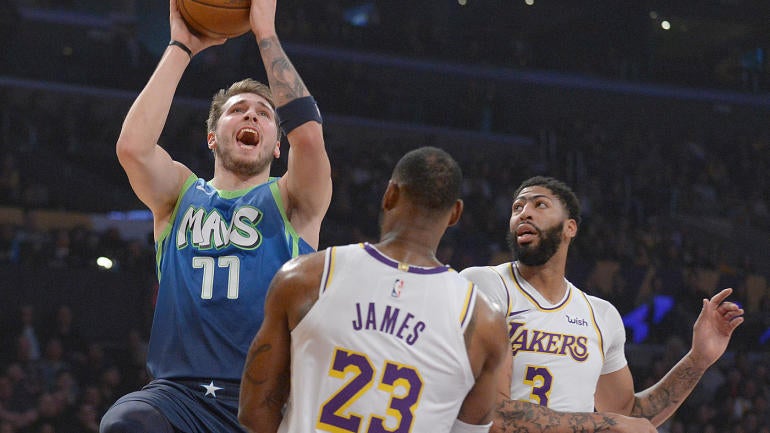 Luka Doncic was out to avenge his the Dallas Mavericks' overtime loss to
LeBron James' Los Angeles Lakers last month. He did so with another near triple-double effort.
Doncic had a triple-double in last month's showdown which just slipped out of his reach. He made sure though that it wouldn't happen again this game. It didn't happen indeed thanks to a huge second-half run by the Mavs.
Luka Doncic, Mavericks dominant in win over Lakers
The Mavericks flew past the Lakers this time 114-100 on Sunday at the Staples Center. The loss snapped an impressive 10-game win streak of the Lakers.

The Lakers started out hot building up a 10-point lead and looked like they were going to keep their win streak alive. The Mavericks sensed some urgency and rallied before halftime.
Doncic and is team started pulling away in the third period with a massive 28-5 run that spanned nearly nine minutes to bring their lead up to 20. Doncic scored 16 of his 27 points that quarter while helping the Mavericks hold the Lakers to just 17 total team points.
It was all coasting from there as a hot Dallas team was too much for
the Lakers to overcome. Dallas has now won seven of its past eight games.
Doncic scores near triple-double
Doncic was only one rebound away from another triple-double. Despite the missed opportunity, he ended the night impressively still with 27 points, 10 assists and nine rebounds while shooting 10 of 23 from the field.
Delon Wright added 17 points off the bench while Kristaps Porzingis and Dwight Powell added 15 points apiece.

Anthony Davis had a double-double for the Lakers with 27 points and 10 rebounds. James also on triple-double watch as he finished with 25 points, nine rebounds and eight assists.

The Mavericks now have a marquee win against one of the best teams in the league. Coach Rick Carlisle said his focus going forward is keeping his team on track.
What are your thoughts on Luka Doncic's impressive night? Let us know in the comments below.