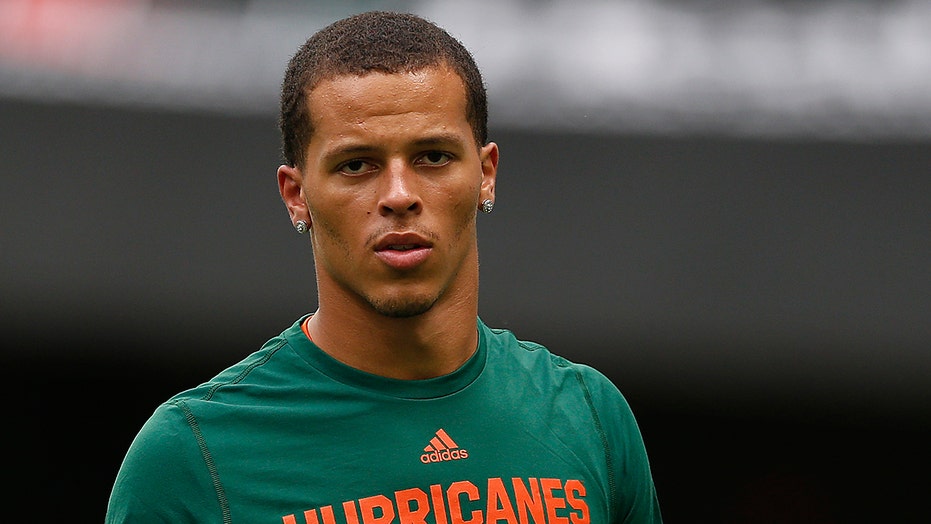 Bubba Bolden celebrated too soon. Now his season ends just as soon.

The Miami safety celebrated after intercepting a pass during the third quarter of the Hurricanes' win over Florida State on Saturday. He became too excited that he
landed awkwardly on his right leg
when Bolden and fellow safety Gurvan Hall leaped and crashed into one another.
Bolden gingerly hobbled his way to the sideline after.
Miami head coach Manny Diaz did not specify the extent Bolden's injury, but said the season is definitely over for his standout safety.
Celebration ends Miami Hurricanes' Bubba Bolden's season
"Unfortunately he'll be out for the season," Diaz said. "It's tough on our defense because he was really, really starting to play well at a very high level," he added.
Bolden began his college career at USC. He
has played in five games this season as a redshirt sophomore. Unfortunately for Bolden, he will have to wait again just five games after spending a year
waiting for clearance to play in the NCAA.
In Bolden's five games with he hurricanes, he totaled 11 tackles plus Saturday's interception which was the first of his college career.
Where does this leave the Hurricanes?
The Hurricanes started the season with a disappointing 2-3 record. It has won three of its last four games which puts them currently at 5-4 on the year.
The team still has a chance to clinch bowl eligibility on Saturday when they host Louisville in their final home game of the year. Then they will be closing
out the regular season with road games against Florida International and Duke.
Though Miami still has hope to clinch bowl, they must hope the best for their injured safety as well.
How will Bolden's injury cost the team? Will the defensive standout be able to return the same? Tell us your thoughts.