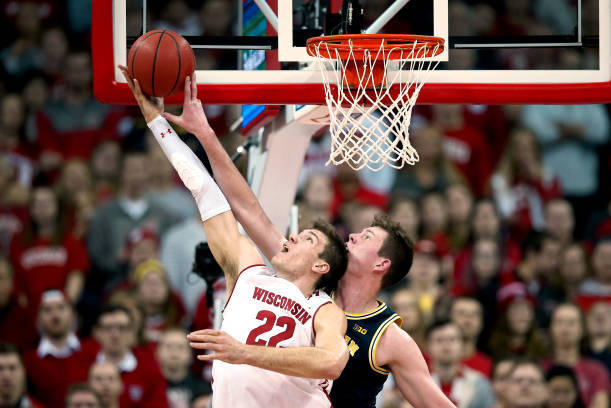 The No. 2 ranked Michigan Wolverines are no longer undefeated as the unranked
Wisconsin Badgers scored a 64-54 upset
at the Kohl Center in Madison, Wisconsin
on Saturday.


With the Wolverines' recent loss, only No. 4 ranked Virginia Cavaliers remain unbeaten in the NCAA right now.

Wisconsin forward Ethan Happ scored 26 points, and added 10 rebounds and seven assists. The senior forward was key to the team's improved record of 12-6 overall and 4-3 in Big Ten play.
Michigan on the other hand fall to 17-1, with a Big Ten conference record of 6-1. There should be no cause for panic for the Wolverines however as they are still one of the top teams in their conference.

As for Virginia, they put their winning streak on the line as well when they visit the No. 1 Duke Blue Devils on Saturday night.
Out of rhythm
Michigan was off their game from the start as freshman and leading scorer
Ignas Brazdeikis
was shooting a poor
0-of-5, and was scoreless the entire game. Senior
Charles Matthews only had
five points.
They led by two at halftime,
27-25 and
as many as five in the second half, before Wisconsin took a 45-44 lead with 7:34 left.
The Badgers started pulling away as Happ made a
number of huge plays for his team as they led by six
with just over four minutes left.
No reason to panic
The Wolverines may have failed to remain unbeaten but still sit on top of the Big Ten standings and are still the team to beat at the moment.
Michigan is still poised to earn
a high seed come March Madness.
Wisconsin needed it more as they lost
four of their previous five games.
What's next?
Wisconsin will be facing
Illinois, Northwestern and Nebraska in the hopes of
getting back inside the Top 25.
Michigan on the other hand will look to bounce back as they face Minnesota and Indiana in succession.
What do you think of the upset? Will Wisconsin break into Top 25? Can Michigan remain atop the Big Ten rankings?
For more SportNuz, click here for the latest updates.