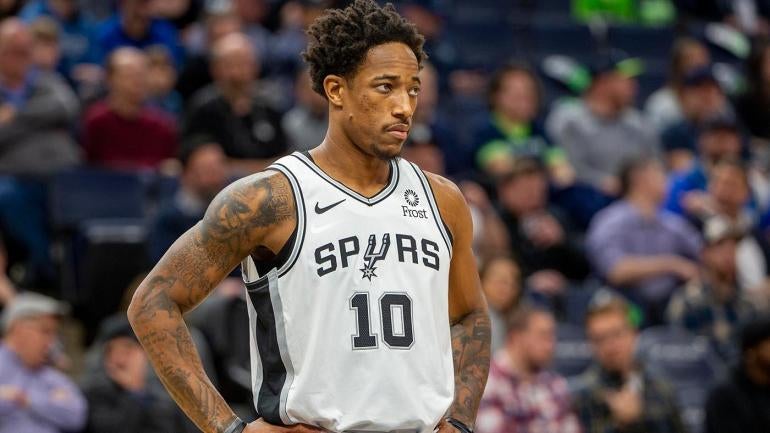 Technically, the damage has been done. Especially when an entire city forgot that somebody worked just as hard to carry the franchise on his back.
It was a heartless decision to trade DeMar Derozan for temporary celebration especially with what happened after.
The Toronto Raptors won the 2019 NBA championship after a blockbuster trade which sent their then franchise player to San Antonio for Kawhi Leonard.
Then came the firing of longtime Raptors coach and 2018 Coach of the Year Dwayne Casey to make way for Nick Nurse.
Both moves proved to be effective as the team won its first NBA title but why want to repair things after intentionally breaking them with no regret?
Ujiri working to repair relationship with DeRozan
Toronto finally found a superstar happy to be in the city playing for a franchise that nobody wanted to go to. Why trade that away though?
Raptors president of basketball operations Masai Ujiri looked like showed no regret in his decisions and we can't blame him for the success it brought. It turns out it was tough for him at that time
Ujiri has since
since patched things up with Casey but as for DeRozan? He says they still have "
a long way to go."

"I will never forget, I will never, ever forget having to do that with Coach Casey and walking to his office, waking up that morning. Many times I wanted to move it and change it or think that you're not making the right decision. It was incredibly hard, because Casey is an incredible person, and so great to work with ... DeMar, I was in the hotel in Kenya, and I walked around that hotel at 4 a.m., 5 a.m., for a couple hours, trying to gather up enough strength and courage to make this phone call. I will never forget it," Ujiri lengthily explains.

Though he said all is good with Casey, he couldn't say the same for DeRozan.

"With DeMar, there is still plenty of work to be done. But, by the grace of God, it will all get better. We have to continue to make these decisions that are tough. But that's the business of basketball and the position that we are in," he said.
Why fix it now?
DeRozan is arguably the greatest player in Raptors history. Although it was Vince Carter who brought eyes into the city, it was DeRozan's accomplishments that defined the franchise.
Pascal Siakam was on the verge of a breakout season. Fred VanVleet has found his role with the team. With the franchise kryptonite LeBron James moving to the west, things could have been the same for the Raptors even without the trade for Kawhi.
DeRozan has publicly expressed his feelings towards Ujiri after being traded. He even said "it's done," and. "there's no reason to have a relationship" when asked about patching things up.
He wanted play his entire career in Toronto and the max contract he signed in 2016 proved that. He chose to sign rather move to a bigger-market team like his hometown Los Angeles back when his market value was one of the hottest.
Will DeRozan stay in San Antonio instead?
DeRozan continues to be the star with the Spurs.
Though the team was bound to miss the
playoffs when the season was suspended, DeRozan's struggles with winning when it counted were an issue of having less-talented teammates. Even LeBron James missed last year's postseason despite having teammates with lots of raw talent.
DeRozan is reportedly unhappy with his current team so its either likely request for a trade or play it out and see how it goes.
It didn't matter in the first place which superstar Toronto had
The Raptors managed to become No. 2 in the Eastern Conference despite the loss of Leonard into free agency.
It's the most solid proof you can get that it is the same current squad that helped Leonard that DeRozan needed to win the big one. Siakam, VanVleet, Kyle Lowry, Marc Gasol, and Serge Ibaka are doing it even without that bonafide superstar to lead them.
DeRozan could have been NBA champion by now if not for that unnecessary trade. Leonard didn't have loyalty to the city. DeRozan did until he got betrayed.
At the end of the day, it's all business and there shouldn't be any hard feelings at all. But just like some company decisions, they could either be bad or unnecessary.
Will DeRozan ever forgive Ujiri? Maybe but the bottom line is the trade wasn't necessary in the first place and that's where the issue of betrayal lies.
Did Toronto make the right decision to trade DeRozan away? Will all be forgiven someday? Leave a comment and tell us if the trade was necessary.