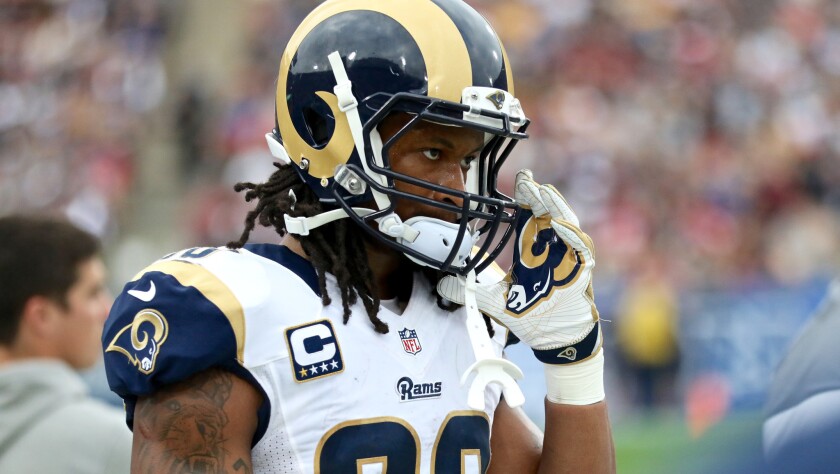 The Rams has parted ways with
Todd Gurley.
It's an awful day in
Los Angeles
as the team released its running back, who was a core member of the team in the Rams'
Super Bowl LIII run.
Gurley also won o
ffensive player of the year in 2017.
Todd Gurley possibly gets $34.5 million or more
Gurley is already a winner the moment he signed his second NFL contract after his third season. He leaves the Rams
with $34.5 million over two seasons played.
Only the best players in his position get paid $17.25 million per year.
Of the $34.5 million, $31.95 million of it, plus the money he will still receive comes without any offset obligation. This limits his dollar-for-dollar credit elsewhere to $2.55 million.
The Rams released Gurley to avoid having to pay him a guaranteed price of
$10.5 million, which he claims the team still owes him.
Will Gurley get paid what he is owed?
Gurley could have been guaranteed
$5.5 million if
he'd been on the roster on the third day of the 2020 league year. It would have also guaranteed him
$5 million in 2021.
There is a silver lining though as the
$10.5 million that Gurley did not receive came with a guaranteed clause for injury when he signed. This means if
Gurley doesn't pass the physical at the time of his release, the payments become guaranteed which pays Gurley the said amount.
He would be making $45 million
from the Rams in total.
Huge financial blow to the Rams if that happens
Gurley is most likely going to be entitled to that extra
$10.5 million given the current situation. It's going to cost the Rams a lot of money that they could be using moving forward.
The team made a calculated risk to pay him after three seasons. The problem was they only started feeling the effects of the poor decision after Gurley's fourth season. The running back started developing knee problems in 2018.
No teams wanted to take Gurley via trade, which is why the Rams made a decision to release him instead. It also proves how bad the contract was.
All good for Gurley in the end
The contract was designed to protect Gurley's interests so it was wise on his part to sign.
He shifted the injury risk to the team after three years.
Now that he has to search for a new team, he'll just keep getting paid regardless if his new contract with a new team will be for less money.
Gurley might just win in the end since he can become $45 million dollars richer.