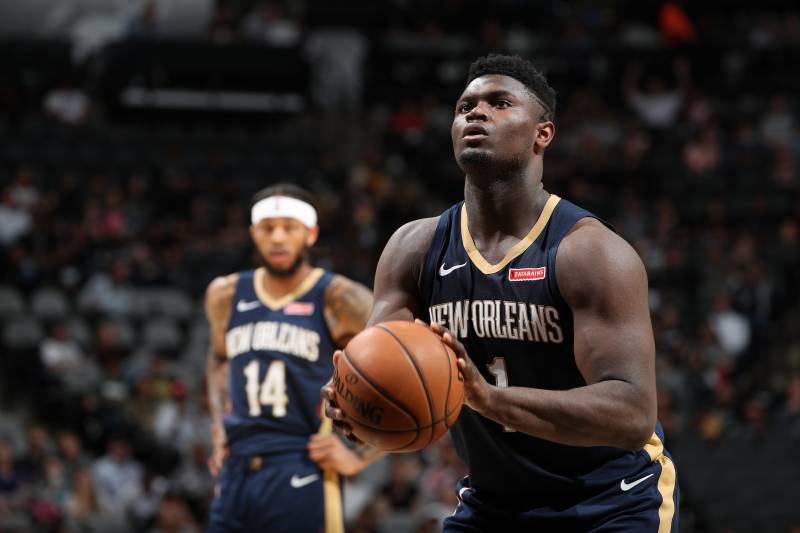 Scary news for the New Orleans Pelicans as Zion Williamson will miss six to eight weeks after undergoing arthroscopic surgery on a torn right lateral meniscus. The team announced the news Monday afternoon.
The Pelicans will have to take a step back as it starts its much anticipated 2019-2020 NBA season without their no. 1 overall pick. Williamson will be sidelined until the first week of December being the earliest. The anticipation will be higher as he will possibly return for the Christmas games.

Either way, Williamson is already set to miss around a quarter to a third of the season. He will have a lot to catch up on if he looks to win Rookie of the Year, in which he was an early favorite.
Williamson ruled out for preseason finale
The team ruled out its star rookie for the final preseason game against the New York Knicks on Friday. Reports say that the Pelicans remain optimistic that
Williamson avoided severe injury. Still, the 284-pound star would miss a period of weeks which means a cause for concern for most.

Williamson already missed all but one game in the Summer League due to a bruised left knee. The scary part is that the new issue is on the right knee this time. It was the same knee that he hurt when his shoe exploded and got sprained in
his freshman season at Duke.
Williamson's official pro debut pushed back
Williamson had a monster preseason performance prior to the injury. He averaged
23.3 points, 6.5 rebounds and 2.3 assists over four games while shooting 71.4 percent from the field. His most recent performance was a
double-double of 22 points and 10 rebounds.
His thunderous dunks have garnered fans' excitement for the upcoming season. He already
opened his NBA career with two of them in the preseason. Williamson was an early favorite for Rookie of the Year prior to
the injury announcement.
Williamson
said in interviews
that he is more focused on team accomplishment rather than individual accolades, which excites Pelicans fans even more.

"To win a championship and have an impact on the team, that would be my dream rookie season," he said.
The anticipated season-opening matchup between Williamson and Dallas Mavericks sophomore Luka Doncic will have to wait. The team has sold more season tickets than it has in the past decade before the news of Williamson's injury.
After officially entering the top half of the NBA in total sales, it's safe to say the Pelicans will be out of that list for the meantime as Williamson recovers.
Should Zion Williamson's injury scare Pelicans fans? What should he do to stay healthy on an elite level? Leave a comment and let's discuss Williamson's possible future in the NBA.